Doggie Out House is part of the entrepreneurship program
of the Non-Profit Educational Organization "16 Things Kids Can Do."
OUR MISSION:
16 Things is a 501(c)3 non-profit educational organization that works for the betterment of kids, people & the planet through a series of books, workshops, programs & activities all designed to help people lead happier, healthier and more successful lives.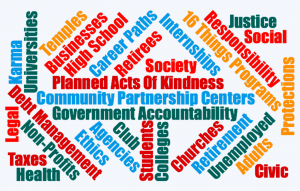 WHO DO WE HELP?
• Students
• Employees
• Owners
• Retirees
• Unemployed
WHERE DO WE HELP?
• Schools
• Churches/Temples
• Non-Profits
• Agencies
• Businesses
16 Things is inviting you to add your name to what may turn into the most significant program in the history of the web. You are hereby cordially invited to become a member of the Karma Club.
The problems of the world are not going to be solved by governments, corporations or religions, but by people around the world working together as one, with a common focus that is consistent, persistent and insistent in its scope.
Each day Karma Club members all over the world will wake up and on their cell phones, computers and devices, there is a daily Planned Act of Kindness that they can do with their family, friends, co-workers and in their community.
The goal is to have tens of millions of people doing the same thing on the same day, and unleashing that much powerful, positive energy into world. And because many problems take more than one day to effect change, we have the Cause of the Month as well.
So again, we ask you to take a minute, and add your voice to the chorus of activists that embrace all segments of society, as we strive to create the peace and harmony that will give balance to world, and bring happiness and longevity to its children.

Volunteer & Help Out / Learn More
The Time To Get Involved Is Now!
Regardless of education or background, people need to be engaged and energized in core areas that affect their quality of life. Working in conjunction with other NPOs, Churches/Temples, Schools, Agencies and Businesses around the country, each week in August will be devoted educating and transforming lives in the following subjects:
Week 1: Health, Nutrition & Fitness
Week 2: Financial Literacy & Planning
Week 3: Communication & Literacy
Week 4: Social Responsibility & Volunteerism

Volunteer & Help Out / Learn More
Help Make It Happen!
Our book series kicks off with 16 Things Kids Can Do To Act Right & Help Save The Planet! — Featuring 16 important problems people face in their lives, and 32 contributing experts that share the "Why & How" that we need to do to help solve these problems.
16 Things Better Communication & Literacy Workshops are peer to peer support groups that use 16 Things Books as the foundation for personal development and the building of lifelong friendships.

Volunteer & Help Out / Learn More
The Time To Get Involved Is Now!